Arabian Nights Paddle SUP & Kayak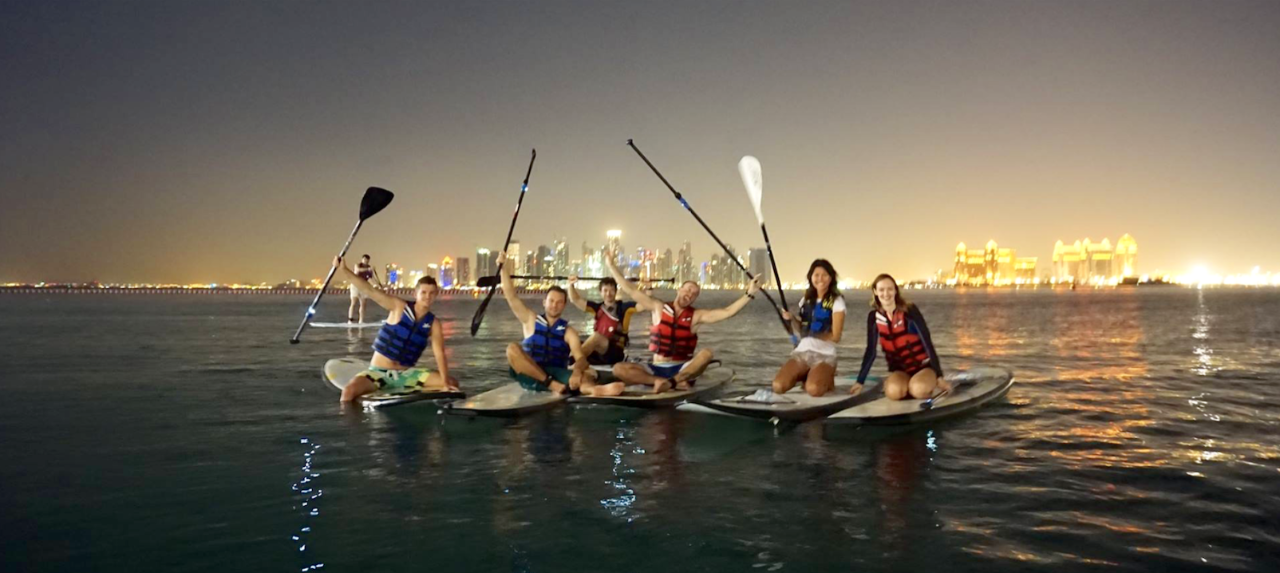 Duration: 90 Minutes
Product code: Arabian Nights Paddle SUP & Kayak
NEW! Magic carpet ride on the Arabian Sea. What could be better than your now magic carpet gliding over the Arabian Gulf at night. CHOOSE a SUP or KAYAK and enjoy the tranquillity. LEVEL: suitable for beginner

Covid19 guidelines:



Online bookings only. All communication via email including cancellation requests and updates.
Show your Green status Ehteraz app on arrival. If sick please stay at home
Arrive 15 minutes early to enable preparation for session. Late arrivals (10 mins into the session) will not be able to join the session.
Physical distancing of 2 meters at all times. Please follow the instructions of our staff at all times and follow the markings inside the base.
No visitors, accompanying family members in marina, they are to wait outside on the board walk.
Bring your own hydration we unfortunately cannot provide water refill at this time. 1,5 liters per person recommended for one session
No special rates, discounts applicable or sale of Loyalty Cards until further notice.


Details of your session
Safety: Blue Pearl provides all gear for participants in accordance with International safety standards. Including lights, buoyancy aids and International standard instructor to group ratio for a safe, professional touring experience.
Prerequisite:

swimming ability of 50 meters

Capacity: 8 participants per instructor as per international safety standards, all SUP & safety gear provided (solid SUPs and adjustable paddles)
Recommended age group: adults
Photography: Blue Pearl does not commit to taking photographs in the sessions, our main concern and focus are your safety and enjoyment of the outdoors.
Location: Blue Pearl base in Porto Arabia, Marina Gate 22, The Pearl-Qatar. Free parking in the retail parking of La Croisette 22-23 just outside our marina gate.
How to prepare: Please wear appropriate gear for cultural considerations. Swimming gear, t-shirt/rashguard and shorts. Be prepared with a cap, sunblock and water for hydration, change of dry clothes.
Payment: exact cash payment, or bank transfer 3 days before the session
Group bookings: see below
Booking & Cancellation policy
All bookings are to be made online at www.bluepearlexperience.com, we do not process bookings via messages, or phone calls. The booking system enables you to search availability and make bookings 24/7.
Payment is on location in cash.
All communication including session updates rescheduling, cancellations are via email.
BOOKING PROCESS
When booking you will receive an automated PENDING status email.
We will CONFIRM the go ahead up to 24 hours before your session, however on rare occasions the confirmation can be 12 hours before the session due to weather and unforeseen circumstances effecting the scheduled sessions.
Blue Pearl reserves the right to reschedule your session in case of 1./ unsafe weather conditions or in the case of 2./ insufficient number of bookings for the session to go ahead (minimum 3 bookings required for a session to go ahead).
Our team will communicate the postponement of the session & possible reschedule timings with you via email.

Private Group Bookings
- send your inquiry to hello@bluepearlexperience.com and we will advise of details based on availability

- full upfront payment up to 48 hours before the session in cash or by bank transfer is required to confirm your booking
- minimum order for Private group bookings is 6 people
- no-shows to Private Group Bookings are fully chargeable and non-refundable
Group Bookings into scheduled group sessions
- book your group through our online booking system
- for groups from 3 people full upfront payment is required in cash or by bank transfer up to 24 hours before your session.
- our team will contact you via email for the upfront payment. Your spots are confirmed once payment is settled.
- cancellations can be made via email up to 24 hours before your session for full refund in cash on location at the time of the session
- no-shows are non-refundable
CANCELLATION POLICY of individual bookings into Scheduled Group Sessions

We recognise that the majority of those who cancel do out of necessity. To allow all in the community to enjoy the sessions even with limited group sizes please note the below policy to enable the transfer of spots to other clients in case of cancellations.
Cancellations
- contact Blue Pearl of your cancellation request up to 12 hours before the session, by replying to the booking email received from the system. This will enable us to transfer spots to those potentially on the waiting list and to plan our instructor to client ratios and equipment need for the session.
No-shows
- full fees of your no-show session will be charged to the next session's fees.