SUNSET FATBIKE & Burger & Bumps **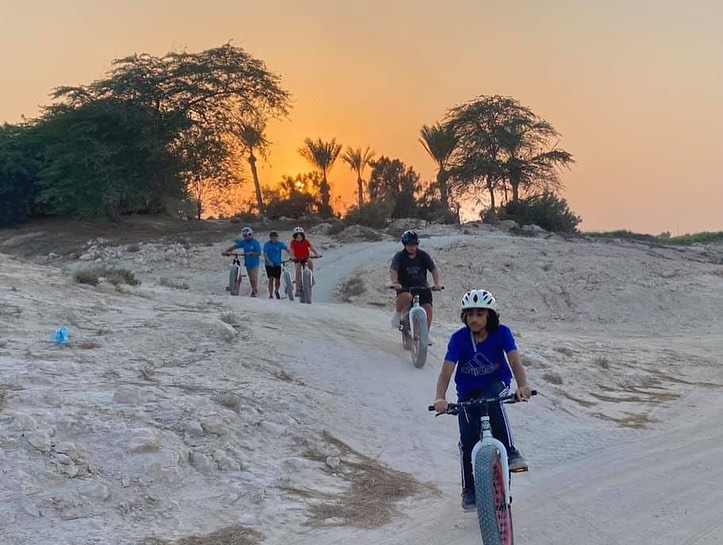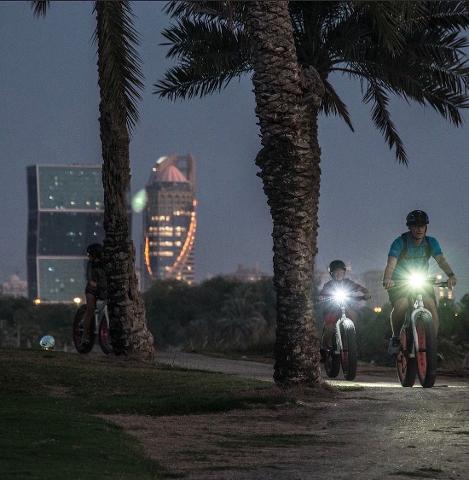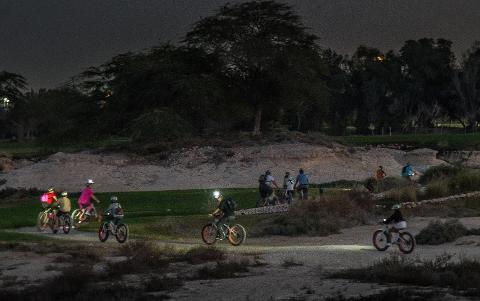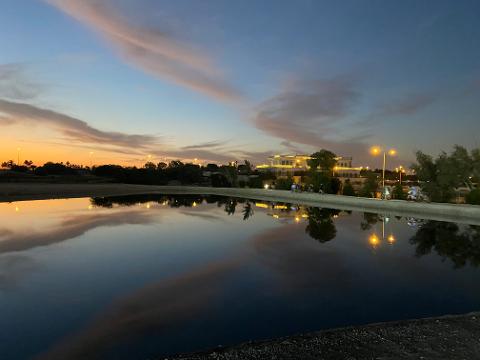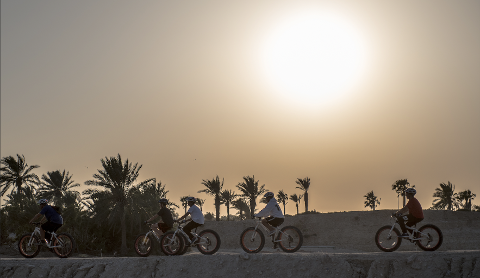 Duration: 75 Minutes
Product code: SUNSET FATBIKE & Burger & Bumps
** Price options starting QAR 220. Choose your package below**
The Ultimate sunset biking experience in Qatar. Excursion through woods, places you have never seen before. Spot desert foxes, bats, frogs and the sound of peacocks in the background. An 8-10 km fatbike ride around the Doha Golf Club 18 Hole Championship Course.
Enjoy this group ride, guided by Blue Pearl's instructor, followed by Food & Beverage at the Doha Sports Park.
The ride starts from Doha Sports Park and finishes there. Meeting spot is at the DSP 15 minutes before the start of the session. Please park in the dedicated parking spots and walk to the Blue bike base.
The 75 minutes duration includes gearing up, safety briefing and the ride.
Includes:
- Use of Blue Pearl equipment (fatbikes, helmet, gloves, lights). Bike sizes will be assigned on the day.
- Blue Pearl guide leading the group
- Use of bathrooms at the Doha Sports Park
Your F&B (food and beverage) package is based on the price category chosen - choose from a variety of F&B packages or no F&B in the pricing options when booking.
- your ticket for this program does not include access to entry to other Doha Sports Park events happening at the same time.
--------------------------------------------------------
BOOKINGS OPEN TO FULLY VACCINATED INDIVIDUALS AND FAMILY GROUPS (book private session for family groups by emailing hello@bluepearlexperience.com)
Group bookings, Private groups, Corporate Teambuilding, Schools Outdoor Education: please contact hello@bluepearlexperience.com
Private group bookings please email hello@bluepearlexperience.com for availability and Terms & Conditions.
--------------------------------------------------------
Safety: Blue Pearl provides all safety gear - including helmet, biking gloves, lights - for all participants in accordance with the safety processes developed for a professional touring experience.
Blue Pearl reserves the right to offer alternate timings in the case of unsuitable weather conditions, for safety reasons.
Prerequisites:
- able to ride, this is not a learn to ride session - ask us if any doubts or questions!

- youth (10-14 years) must be independent riders, able to ride on uneven offroad surfaces.
- provide your QID number when booking, this will be required at the entrance and security will only allow entry for those who have provided full names and QID numbers.
- Riding with OWN equipment - Equipment will be inspected before the ride (breaks, tyres, frame, chain, helmet), if the bike does not pass the safety inspection it will not be allowed onto the course. Participants must have own safety gear, there is no riding without safety gear (helmet & gloves). There will be no bike maintenance available before, during or after the ride for OWN BIKES.
- For all participants under 18 years, a parent must sign the Disclaimer Waiver form on location. No sign, no ride.
Location: Doha Sports Park (click for location on Google maps)
How to prepare:
Comfortable outdoor gear -t-shirt, long sleeve top/jacket in winter months and shorts/leggings and trainers (no sandals, flip flops). Be prepared with a backpack for your water bottle (so you can hydrate on the way) and belongings. Please note there is no storage facility on location.
Payment:
upfront online payment to confirm your booking. Our team will get in touch with you for details, following your online booking.
Valuables: Please take care of your valuables, Blue Pearl does not hold responsibility for any loss. We recommend no valuables for the ride.

Photography: Blue Pearl does not commit to taking photographs in the sessions, our main concern and focus are your safety and enjoyment of the outdoors. If we do take photos, successful shots will be shared on our social media accounts.

Environment Care: Only leave footprints behind. Please do not throw your garbage in the desert; it can be disposed of responsibly at the Blue Pearl base and checkpoints. We support environmentally friendly activities with this non-intrusive sport. Hope to have you on board in this mission, to make a change in conserving Qatar's fantastic natural resources!