WingSurfing ركوب الأمواج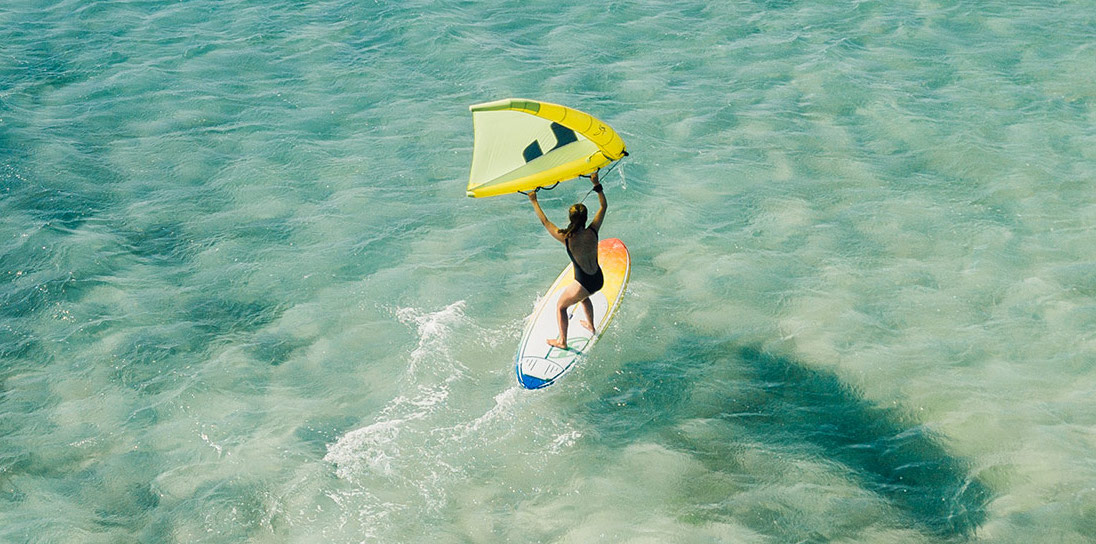 Duration: 120 Minutes
Product code: WingSurfing
Learn to Fly with Qatar's 1st Wingsurf Academy!
Wingsurfing, Windgliding, Wingding, Wingsports or what ever you want to call it is a cross between kiteboarding, windsurfing, surfing and paddleboarding.
Combine a Handheld Wing with a specialise designed Stand Up Paddleboard and you get an incredibly rewarding new sport. By the end of the 2 hours you will have grasped the fundamentals of wing flying/ angle and power pump, and propelling yourself through the water using the power of the wind whilst on a wingSUP.
If you're new to Windsports, Wingsurfing is easier, safer and more user-friendly than any of its predecessors, and if you're an experienced wind junkie, it's a fun and simplistic style of riding you'll enjoy instantly. The Wingsurfer is a light weight inflatable wing that has a rigid frame when pumped up and can be packed in a small bag when deflated.
No harness, control bar, lines, mast, boom or battens needed. It's designed to be used with a foil or paddle board with enough volume for the rider to stand on and can also be used with snow sports or skating.
Location and Timing:
- Various locations: Doha or the north of Qatar, location of your session will be confirmed by Blue Pearl up to 2 days before the session depending on wind and tide conditions.
- Transportation to location is not included, this is to be organised by the participants individually.
- Book for private 1 on 1 with our instructor, or choose Booking for 2 people when booking with your friend or family member. Please note when booking for 2 people, you are to organise the 2nd person into the session, Blue Pearl does not organise groups.
- Book a date as per your preference and our team will reply with a confirmation or an alternate date based on weather conditions suitable for your session.
Pre-Requisites
Although it is not necessary, some prior board or sailing experience will certainly make the learning easier.
Ability to swim 50 metres.
Bookings open from 12 years of age - all children under 18 years old are to be accompanied at the beach during the time of the session by a parent as per our child protection policies.
All participants are requested to sign Blue Pearl's Disclaimer Waiver form prior to the session.
Lesson Content
- Learn the Wingsurfing Components.
- Learn Wing Safety.
- Learn Wind Direction. An important lesson in any wind sport, including Wing Surfing, is knowing the direction of the wind and how to channel it to your advantage. Once you become proficient in knowing the wind direction you will quickly excel at Wing Surfing.
- Become comfortable in both "goofy" and "regular" stances.
- Learn to Fly a hand held inflatable wing
- Work on getting to your feet while flying the wing
- Self Rescue of the Wing and Board
Suggested items to bring with you on the day of your lesson:
1. Sunglasses
2. Hat
3. Sunscreen
4. Booties (water shoes, important for Zecreet to protect feet)
5. Water
6. Wetsuit (if needed winter only)
7. Stoke
Blue Pearl Provides
1) Helmet
2) PFD (Flotation Vest)
3) WING & BOARD
4) Instructor